MoodleBites Server Administrator
Updated for 2019 - Moodle 3.6
(Most content is suitable for earlier versions of Moodle)
This course is designed for people who are running their own Moodle server (or want to / need to in the future), and would like to understand more about how to successfully setup, manage, maintain, secure, and upgrade the server environment for Moodle.

If you are not a server administrator, but want a course that focusses on how to administer and manage your Moodle site on a day-to-day basis, please view the MoodleBites for Administrators course.
This course includes:

New HD (high-definition) screen capture movie tutorials
Official Moodle Partner 'Certification of Completion' at the end
Fast and efficient graphics (courses run quickly)
Downloadable .pdf resources
Forums and other collaboration options
Case-studies of real-world usage
Lots of Quizzes and self-test questions
All relevant server features covered
Open Badge awarded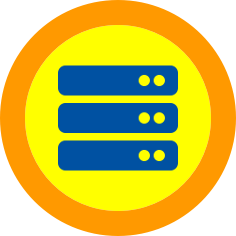 MoodleBites Server Administrator is a structured programme of eight Moodle courses (weeks) which you can access for a period of eight weeks. Each course contains approximately 2-4 hours work, although this varies depending on your experience with Moodle, servers in general, and how much extension work you wish to complete


Designed for 'just in time' training, for busy administrators needing flexibility, and those new to server administration.
The course is facilitated by Nick T (Linux and server specialist with HRDNZ Moodle Partner) and co-facilitated by Stuart Mealor (well known international Moodle and e-learning figure, Moodle Certification Manager, PHM, etc.)
Fee
MoodleBites Server Administrator fee is US $750 per person.
At this time we are able to offer a discount to a special rate of US $599
but
places are limited
- so book early to avoid disappointment! If you wish to convert this value to your local currency please visit:
http://www.xe.com/
All invoices are in US Dollars (Euro invoices available by special request).
You can register for the course using the "Register Now" link on the Front Page.
Dates
The MoodleBites Server Administrator course starts on the following dates each year:
1st February
1st April
1st June
1st August
1st October
In covering the content, each course includes:
Printable reference material
Multimedia tutorials
Forums and chat sessions
Practical teaching examples
FAQ's (Frequently Asked Questions)
Individual practice exercises
Extensive Glossaries
Optional group activities
Tips and tricks
Selected relevant links
Quizzes
Real word case study examples
Recommended further reading
MoodleBites Server Administrator is unique in a number of respects:
It has a focus on how to effectively manage a Moodle server - Linux, Windows, and Mac - and virtualised and Cloud based hosting.
The course development team is international and MoodleBites Server Administrator has been written to be accessible for speakers of English as a second or other language.

The course is designed to run well even over very slow or limited internet connections, and on older computers.
Any movie tutorials have optional Closed Captions and/or transcripts
Course outline
Week 1, Setting up your test environment
For this course it's essential you have a test environment. This week we look at some options for how to install and setup a suitable test environment.

Downloading & installing VirtualBox
Downloading & installing Ubuntu LTS
Building & Configuring your Virtual Machine
Testing Networking
Configuring Remote Access via SSH
Getting your Virtual Machine up to date
Week 2, Installing required services
What are services, which do we need, and why? Running more service than you need can dramatically affect the performance of your site.


Defining your goals for a Moodle server

Choosing the appropriate services
Installing & Configuring the services
Week 3, Getting Moodle Installed & Functioning
Now we need to get Moodle installed. There are a few different ways, and which you use depends on a whole range of factors. Updating Moodle is also vital too!


Choosing a method for downloading Moodle

Configuring and testing your environment for Moodle
Installing Moodle
Updating Moodle (git)
Week 4, Building for Speed!
No-one likes a slow server - whether it's file sharing, email, or Moodle! Lots of options available, but understanding how to get the best out of your Moodle server is not always obvious.


Setting up cron jobs

Choosing a Caching Method

Setting up Caching (FPC)
Setting up Readahead
Optimizing Services
PHP configuration
Week 5, Server security
Security is both fascinating and confusing! But as a sever administrator of your Moodle site it's something you can simply never overlook, and also have to understand it's a constant and moving field.


Securing SSH with certificates

Securing Services (Apache; MySQL etc.)
Securing Moodle (file permissions etc.)
Week 6, Backup and Monitoring
Server backup is essential, period. There are also many tools available for monitoring your Moodle server, and these help you become proactive - seeing potential issues before they ever impact on your production site.


Server Snapshotting (VirtualBox)

Backing up individual folders and files
Setting up Cron Jobs for maintenance and backups
Week 7, Moodle specific security and performance
There is little point having a highly optimised server if you then don't configure Moodle is the best and most appropriate way! This week we work through the Moodle specific settings.


The minimal essentials
Best practice
For the paranoid
Week 8, Hardening and Tweaking your server
This is a final 'catchall' week - for small items that do not fit neatly into the earlier weeks. This week also allows participants to revisit earlier topics with the benefit of hindsight, to set-up and maintain networking links, to share end-of-course comments and feedback.

Hardening your server
Tweaking your server
Other content is constantly being revised and often participant led !
*This outline is subject to change as Moodle changes and we update the content.
最后修改: 2018年12月17日 Monday 15:29