Moodle Course Creator Certificate (MCCC)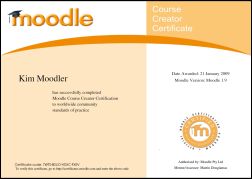 What is the Moodle Course Creator Certificate (MCCC)?

The MCCC is a way for you to demonstrate your skills in using Moodle as a teacher.
When you complete the certification you are given a code that lets you (or anyone else you give the code to) view your personalised certificate as a .pdf from the Moodle site.
In countries without a Moodle Partner, you can undertake the MCCC with HRDNZ (we manage the Certification scheme for Moodle, and provide support for candidates from countries with no Moodle Partner).
IMPORTANT: Please refer to the certification area of moodle.org for full details of MCCC before you discuss MCCC with us (link to MCCC area on moodle.org)

How to achieve your MCCC with HRDNZ:
Combine MCCC with the MoodleBites online Moodle teacher training course
Moodle Partners map their training courses against MCCC. Where the course covers 80% or more of the MCCC, completion of this training course equates to the MCCC Skill Sets. This leaves just the narratives and final exam to be completed.
Our MCCC process is completely online, delivered within Moodle (asynchronous), with no requirements to attend physical training sessions.
HRDNZ have aligned our MoodleBites for Teachers online course with MCCC.
Fee: USD $499 (NZ domestic $549+GST)
This fee includes credit card fees and currency exchanges fees - there are no hidden charges.

If you wish to translate this value to your local currency please visit: http://www.xe.com/

All invoices outside of New Zealand are in US Dollars (USD$), Euro invoices available by special request.
A discount may be available for candidates from countries in South America and Africa.

Candidates are assigned an MCCC mentor-assessor to help guide you.

Start dates for MCCC with HRDNZ are:

1st February
1st April
1st June
1st August
1st October
When registering you should ensure payment is made well before the next start date or your registration will be deferred.
Please note that from 1st January 2017 MCCC is delivered and assessed using Moodle 3.1.

Who provides the certification?

The content of the certification is designed by the Moodle community at moodle.org where you can find discussions, documentation and preparation guides. MCCC is the only officially recognised, global, Moodle certification scheme. The certification process is only available through Moodle Partners.

How can I get a Moodle Course Creator Certificate?

BEFORE you register, review the checklist below and if you can honestly say "Yes" to each then you are probably ready to register and start:
I have created a Moodle course previously and actively used it with learners
I have used Moodle for at least one year
I have used many different activities and resources in Moodle
I am familiar with the Moodle Docs area, and can find my way around
I have read all the documentation in the Moodle Certification area
I can set aside 5-10 hours a week to work on my MCCC (this will vary based on your existing knowledge and experience with Moodle)
I want to improve my understanding and use of Moodle!
You can register for this course using the "Register Now" link on the Front Page.

Last modified: Thursday, 26 January 2017, 10:22 AM